Date: August 1, 2019
Time:
Door County Library
107 S 4th Ave
Sturgeon Bay WI 54235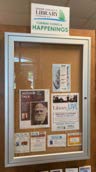 A lovely presentation room in this lively library. It was honor to be featured as a part of their summer history series. I highlighted scenes in TALLAK! immigrant that illustrated the creative use of sources and the multiple sources available through this library.